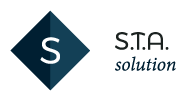 We are thrilled to announce that our loyal clients, MAS & Fils Jardiniers Ltée, Cousineau, Vegco and Ferme Horticole LMR, have chosen to upgrade to S.T.A 11, the latest enhanced version of our S.T.A software !
By integrating S.T.A 11 into their businesses, they will benefit from a more powerful and comprehensive version, offering new features to facilitate their time and attendance management.
Additionally, they will have access to a faster mobile application with additional features such as geolocation and the ability for employees to access their work hours and time bank, among others.
Another major improvement of S.T.A 11 is its compatibility with all existing payroll systems*, simplifying the payroll process.
Here are some additional features of our STA 11 software:
Employee reports: tardiness, absences, missed hours, worked hours, and various other statistics in one comprehensive report!
Direct leave and vacation requests through TAG, in addition to checking the approval status of their requests
Project, product, and task management module for profitability and profitability reporting
Health and safety module
Visitor registration (Log book)
And much more!
To learn more about our S.T.A 11 software solution, visit: https://cyberlog.ca/time-and-attendance-management/
Thank you to our clients for their trust!